Despite a little early panic Saturday night, the Long Island race went pretty okay.
HermesCraig, HermesMike, and I headed to Southampton, NY for the 2nd day of the the Whitemore Supercross cyclocross race. With a two UCI races and big money, it was a treat to watch some of the finest cyclocross racers in North America throwdown.
Me? I raced the Killer Bs.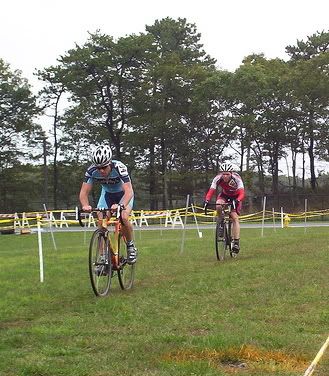 Mark making contact with 5th place rider Frank Zgoda
I got a good start (except for being chopped going into a corner by HermesCraig) and suddenly found myself 4th for a while. A few more laps in and I got passed and passed again. I buried myself to get up to the guy in 5th. With 2 to go, a Strictly Bicycles rider who I'd caught up to and passed caught on and wanted to work together. Unfortunately, I was so gassed, that when he came around he also dropped me.
So, I was content to settle for 6th, but I was terrified to get caught by the guys in 7th and 8th for whom people were cheering, so it sounded like they were close. They weren't. I had over a minute gap on them. I kept the gas on as much as I could and rolled in solo for 6th.
This was my first cross race since August, so I was pretty pleased with the result, despite finishing one spot out of the money. I've raced this race every year and have gone, now, 6th, 7th, and 8th. Every year the results keep improving!
This weekend is a break from racing, then the season starts in earnest with the Westwood Velo 'Cross race in Mahwah, NJ. I'm hopeful that my form continues to improve, and I can turn in another good result.
Congratulations to HermesRalf who finished 3rd in the Masters on the first day of the race. Ralf looks great in red and black!