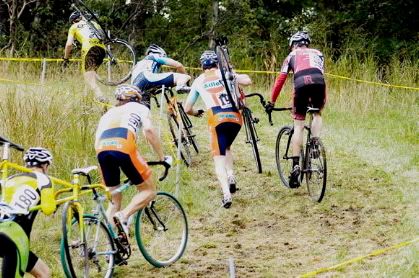 Not from last night's practice session
Tonight we had a big crew out for cross practice... 20something or so.
Sadly, only Jay and I were came out to compete for the hallowed RU Superprestige Leader's Jersey.
Round one and I hammered off the front to get the hole shot and ride cleanly through the tricky dicky S turn. Ralf and Eric Schlauch came around me and did their go fast thing while Craig and I took turns at messing with each other. I felt terrible, and I simply couldn't shake Craig. Finally, on the last lap, I put in a mega-attack on the back side of the course and got a gap. Craig fought back and got on my wheel going into the barriers. I hit the barriers as fast as I could with no brakes, rode cleanly through the off-cambah and Craig was gone. I rolled in 3rd... 1st in the points (7). Jay rolled in shortly behind for 2nd (5).
Round 2 came, and I was not feeling it. I took the start slow and got on Eric's wheel. We hit the grass and Ralf turned on the gas. We passed Rich Bauch (Colavita) who go the hole shot, and we motored through the S turn, off camber, and U turn. Coming into the flat before the barriers, Eric turned on the afterburners, and I dug deep with everything I had to stay on his wheel with Ralf on mine. I hung out by the skin of my teeth with Ralf and Eric for another lap until Ralf crashed on the off-camber, and Eric drilled it on the pavement. I sat up and rolled around as hard as I could while seeing stars. Eventually, a Liberty guy caught and passed me for 3rd, and I let him go. He wasn't dismounting, so he was faster that me. I hung on for fourth... 1st in the points (8). Jay came in 2nd (6).
Soo... I hold onto the leader's jersey for another week.
Current points standings:
Mark 26
Jay 17
Don 7
Charlie 5
I go into a rest week with a pretty decent lead. Look for someone to take the jersey from me next week. My money is on Jay.
Saturday is Cookie Puss 'Cross on Livingston. 10 AM. If it's raining, it's cancelled. Winner gets some sweet ice cream cake (so does everyone else). Mark doesn't get ice cream cake.
-Mark