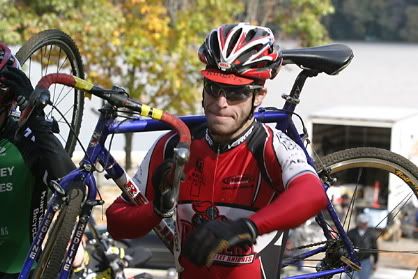 Jay has style (photo: Dennis Smith)
Before the Rutgers football team extended its undefeated streak on Sunday night, the Rutgers Cycling Team continued its dominating cyclocross campaign.
The collegiate cyclocross series kicked off this weekend in Bridgeton, NJ at a race sponsored by Team Beacon. After several weeks of preseason action, Rutgers was ready to rock. Rutgers had an enormous presence at the race, bringing seven racers down to put their stamp on the collegiate series in its opening weekend.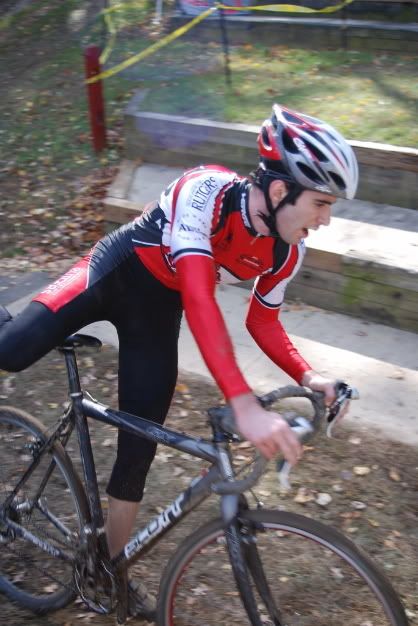 Don displays his technical prowess and new Scott Cross Comp bike (photo: mike@phattire.net)
Rutgers did not disappoint.
In the Men's C, Rutgers went 2nd, 3rd, and 5th in the collegiate category with Blake, Ted, and Andy representing big time.
Rutgers swept the men's B with Charlie 1st, Don 2nd, Mark 3rd, and Jay 4th.
With this incredible weekend, Rutgers take a commanding lead in the Eastern Collegiate Cycling Conference Cyclocross Series.
Mark, RU Cyclocross DS, had this to say about the weekend, "We're over the moon. It's been a natural progression for a team that has grown by leaps and bounds over the past three years. We've won a number a state championships in 'cross and been on the podium in the Mid-Atlantic and New England series, so it's natural that we came prepared for the innaugural collegiate cyclocross series. Now we just have to keep our lead."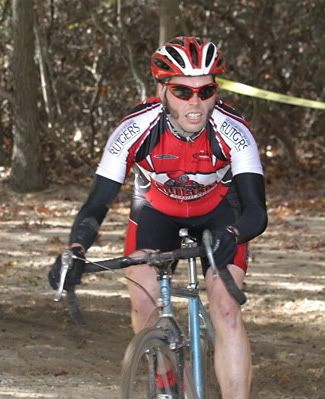 Mark does something weird (photo: Dennis Smith)
Racing action continues with ECCC races in Connecticut at Chainbiter 6.0 and Massachusetts at the 16th Annual Cycle-Smart International. Rutgers will again bring out a massive and gifted team to extend its lead.
ECCC Collegiate Cross Schedule
10/29 Beacon 'Cross - Bridgeton, NJ
11/4 Chainbiter 6.0 - Farmington, CT
11/5 Cycle-Smart Int'l- Northampton, MA
11/5 Nittany Lion Cross - Fogelsville, PA
11/11 CX Easterns @ UNH - Durham, NH
11/12 HPCX - Jamesburg, NJ
11/19 Evo - PA
11/25 Bay State Cross - Sterling, MA
12/9 Stedman's Cross - Kingston, RI
12/10 Caster's Cross - Warwick, RI
12/15-17 Cyclocross Nationals - Providence, RI