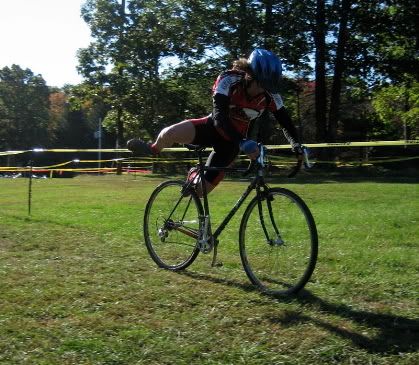 FarmerAndy shows how it's done.
The Rutgers 'cross crew headed up to Mahwah, NJ to let their presence be known in the first round of the NJ 'Cross Cup Series.
In the C race, Blake and Ted toed the line. Ted met with some bad luck and flatted early on, but Blake hung tough on the very difficult course to finish 11th.
Our lone junior, Andy (affectionately known as FarmerAndy), raced the 15-18 race. Not only was this his first cyclocross race (and 2nd time on a cross bike), but it was his first bike race ever! Andy rode a brilliant race and displayed some great technical prowess to finish 4th.
In the Bs, Rutgers represented big with Charlie, Jay, and Mark lining up front row to battle for the hole shot. Charlie avoided a first lap crash that split the field and scooted off with the front group to hang on for 4th in a tough field. Mark rode a steady race and finished 8th in a vaguely dramatic sprint finish. Jay had another great ride to finish 15th. Jay continues to just simply get faster.
Next weekend, the crew is in action in Wilmington, DE for the MAC series opener at Granogue. Last year, weather played a key factor with mud making difficult sections even harder. Don finished 2nd in the Cs and is looking for the win this year. Charlie had a great race and is looking to improve on his 12th from last year.