RU Cycling travelled to Delaware for the Escape from Granogue mtb race (round 2 of the Mid-Atlantic series). Last year, RU went 1-2-3.This year, we once again came home from Granogue with some hardware. With a talented bunch of sport racers (Charlie, Jay, Mike, Dave, Mark, and Alessandro) we were sure to make something happen and indeed we did.
Dave, Jay, and Mike toed the line for Senior 1 sport. Alessandro for senior 2 sport, and Charlie and I for Open Single Speed.
The morning had looked ominous with scattered showers and hard rain at times, but by our 9:30 start things were looking pretty good (although quite slippy).
The mtb course borrowed the long road start from the CX course and led to the tower climb. Tight, slick single track was the order of the day, punctuated with fast field sections and some long climbs.
Despite being on the fence about racing today, Charlie took home a convincing win in the SS class, finishing 3rd overall! I rolled home for 6th after spending most of the first lap falling all over myself. Alessandro fought back from some technical difficulties and a nasty crash to take 11th. Jay rolled in 25th, Mike 26th, and Dave in his first MASS race (and first Sport race) came in 29th!!!
The open single speed podium (Charlie and Co. mid arm raise)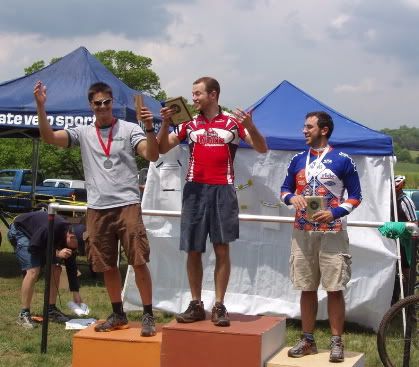 What a rocking bunch of results. Everyone who raced today put in some amazing efforts on a wickedly hard course. Well done!
A very sore,
Mark